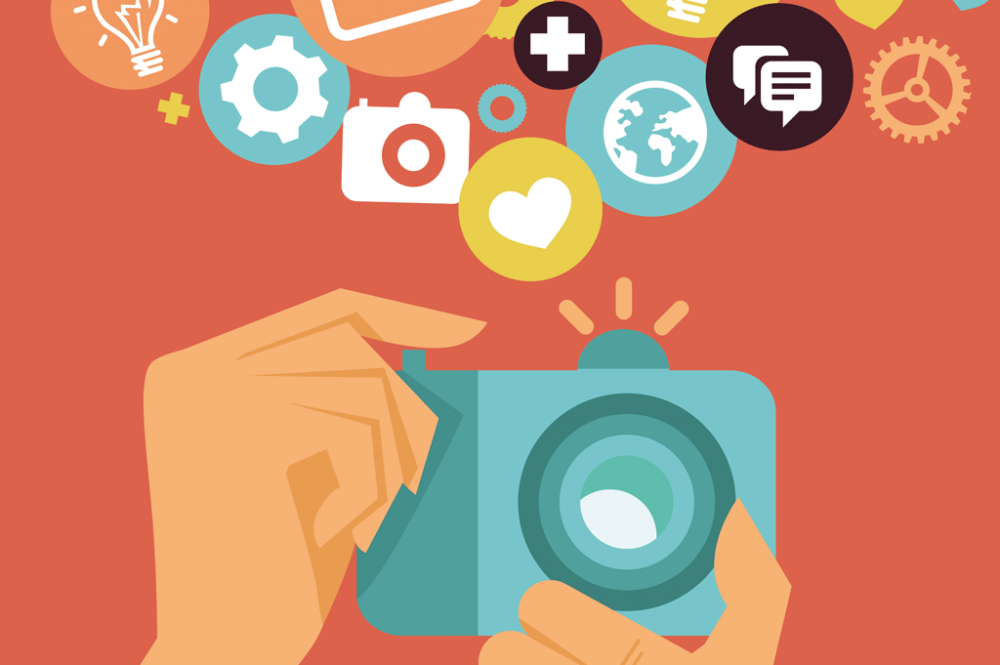 Picture This: Communicating in an Image-Driven World
By the time you finish reading this, almost 1 million photos will be uploaded to Facebook, and over 1.8 billion photos will be shared online by the end of the day. That's 1.8 billion a day, everyday. Like it or not, society is dominated by visuals created at the push of a button. Now, if you have a strong brand built on your own proprietary imagery, you're good. But, if your brand is built on borrowed imagery, then we need to talk.
The power of an original library.
Building a library of your own images should be a top priority for your brand, every year. Top. Priority. Having your own library of original imagery allows you to tell your story, your way, and uniquely position yourself beyond the grandiose statistics.
Consumers want to see your brand in action. Real action. If your brand is about relationships, then let's see YOUR people, not models. If you sell a specific product, then let's see the actual product. Actual people engaged in real situations and settings is one of the reasons over a billion photos are being shared, because they want to see the real you.
What will it take to build your own image library? Patience and persistence. Building an image library does not happen overnight, but it's never too late to start, and you'll be surprised once you begin, the ideas start to flow.
Questions to think about before you build your image library.
What is the visual story you want to tell?
What is visually unique about your brand?
What will your imagery look like without supporting text?
Will your imagery be shared online?
Are customers looking for specific images?
Is there a season when your brand looks best?
What will the shelf life be for most of your images?
How often can you shoot new material?
Then start building a shot list of what you need, versus the list of what you want. Can you shoot your entire image collection at one time? Maybe. However, it depends on the amount of shots you need and whether your brand is being shot in studio or on location. Once you know what you need, you can figure out who's going to press the shutter.
Professional photographer
Light, composition, cropping, shadows, tone, exposure are just some of the details a professional photographer will bring to your shots ­– not to mention lights, cameras and assistants. Discuss what you're looking to accomplish – what's your end goal. A good photographer will bring ideas, creativity and organization to the project. I've yet to work with a professional photographer that wasn't meticulously organized. If the photographer knows about the product or location early on, they're a great resource in figuring out the most efficient shot schedule, because it's their time too and they want to make the best use of it.
Once photographers become comfortable with shooting your brand they become an invaluable resource in suggesting alternative shots and ideas. You'll be surprised how your library will grow with good planning using original photography. It is well worth the investment.
Amateur Photographer
If you can't get the budget or timing for a professional photographer, you may try someone who has photography experience to help, depending on the complexity of the assignment. Look at examples of their work so you know the capabilities, and can set expectations accordingly. You may have to re-arrange the shot list to meet the photographer's skill set.
Do-it-yourself iPhone
In most cases something is better than nothing, but you still need to think through what you're shooting. Camera phones have limitations – small images may look accurate on the phone, however if you need to enlarge it for any reason, the distortions and lack of depth will be noticeable. You'll have to decide if the quality of what you're trying to do yourself will help or hurt the reputation of the brand.
Stock Photography
You cannot build a proprietary image library around stock photography. You can use all the images you download, but so can everyone else. Stock has gotten better with the quantity and quality of the work, but bottom line is, it isn't you. Stock represents a scene, an emotion or persona and was never meant to be the actual representative of your brand. So keep in mind the next time you see a stock photo that you think is great…we've probably already seen it.
However you create your own image library, the fact that it's your original imagery is what counts. Your image library will grow over time, and will become a big resource for your brand in our ultra-connected digital world. Every picture tells a story. Start with your own.
This post originally appeared on September 24, 2015 on BMA Chicago's B2B Insights blog.